Rachael Maloy took the photo.
I wanted to have a headshot of me for the album cover. Ultimately, this album is about the identity shift I experienced while writing and recording, so I wanted to capture what I looked like near the end of the process. It's also the most honest and vulnerable I've been in my songwriting, so putting my face on the cover was my way of "owning" that vulnerability.

I told Rachael that dramatic or moody lighting would be a great match for the music. Indiana delivered the same ominous skies that dominated the season of depression in which this album was conceived. And a freshly harvested field in the background serves as a nice symbol of seasonal life change, although it wasn't planned that way.
I read this some time in 2016, and I underlined it and thought it would make a "sweet band name." It also makes a sweet album title.
And these two words, which Jesus uses to refer to his disciples, kickstarted a multi-year study of sheep, shepherding, self-discovery, and growth for me.
I love that he calls us his "little" flock, indicating how small and helpless we are without him. Reliance on Jesus as my shepherd is a big, tough, wonderful lesson I've learned by being a dad. I'm still learning it, and I expect I always will.

I also enjoy referring to my family as a little flock that God has tasked Brooke and me with shepherding.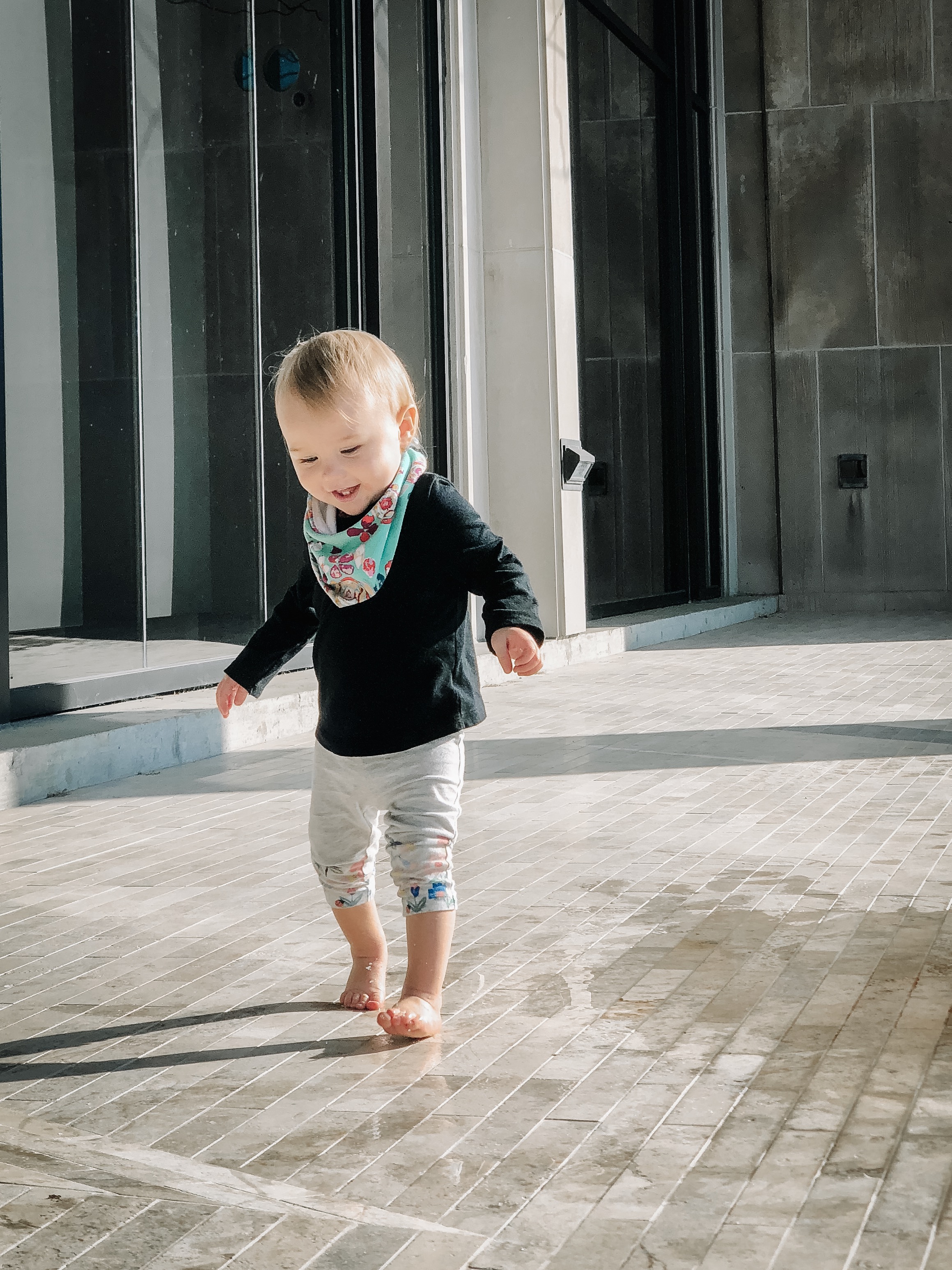 This is my daughter Holland.
She's incredible. When I first started working on Little Flock, she could barely roll over. Now she runs, climbs, laughs at her farts, and says words like "book" "outside," and "banana."
Much like her mother, she makes me want to be my best. But from her perspective, she just wants me, whether or not I'm at my best. She just wants me to be present mentally, emotionally, spiritually, and physically - even if I'm a mess. I try remind myself daily that she is God's daughter first, and by His amazing grace, I've been tasked with being Holland's earthly father. If I want to leave a legacy, raising my kids well is the best way to do that. It's a sobering responsibility that I don't take lightly.

Anyway, Holland's voice can be heard on "Suspended and Safe," and her voice is the main synth/pad on "Elephants." Three months after her birth, I (unknowlingly) entered a period of postpartum depression that floored me. It brought me to the end of myself, and it was in the middle of that season that I started recording "Little Flock." The melancholic tone of this record can be attributed largely to that starting point. The whole ordeal taught me that although I'm a shepherd for my little flock, I'm still a fallible sheep in Jesus' little flock.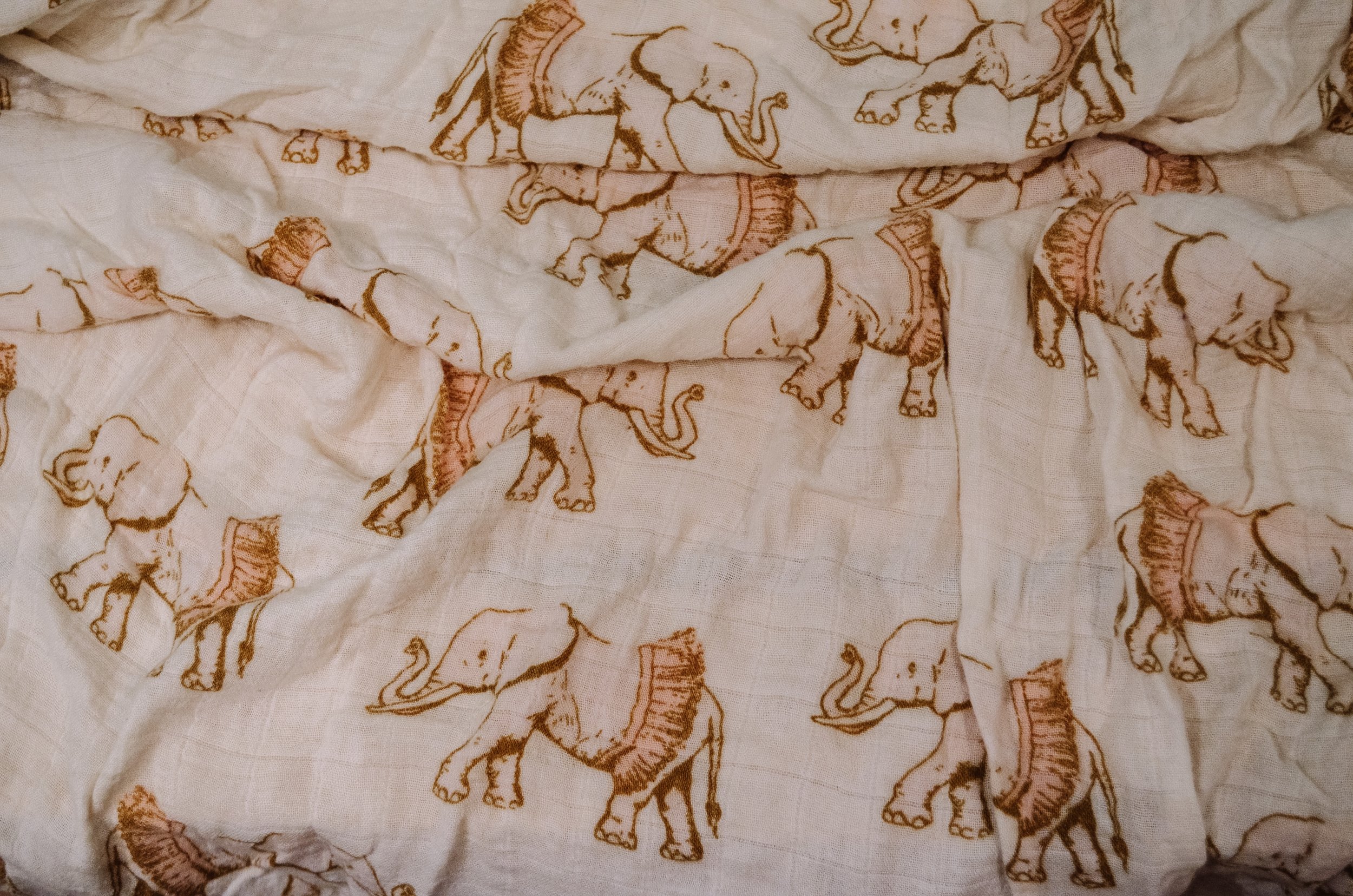 This is my favorite of Holland's infant swaddles.
I love the pattern, but for some reason, I also associate it with the postpartum depression I experienced. It's also described in the opening lyrics of "Elephants."
"Outfitted in tutus, the softest of pink. A laugh falls from my saliva-webbed lips, and tears fall like bombs in the sink." That song depicts a meltdown of mine. But it also begs Holland to "lean in and learn" from me and about me. Know me well. Know my strengths and my shortcomings. I don't care if it's messy. The closer the relationship, the messier it will be. But it will also be more rewarding and life giving.
My best friend. My biggest cheerleader. My favorite human. Her voice appears on nearly every track on Little Flock. And her advice, feedback, suggestions, and inspiration are as ubiquitous as my guitar playing in these songs. She's the reason I release music as "The Stoffs" instead of just "Eric Stoff." Brooke and I have been together for 10 years now, which is a good chunk of our lives. I'm a better man and a better musician because of her. Without her encouragement, Little Flock would not exist.

No one else lived through 2017 and 2018 by my side, and for that reason, no one understands these songs quite like her. I love you, Brooke, and I always will — 'till death do us part.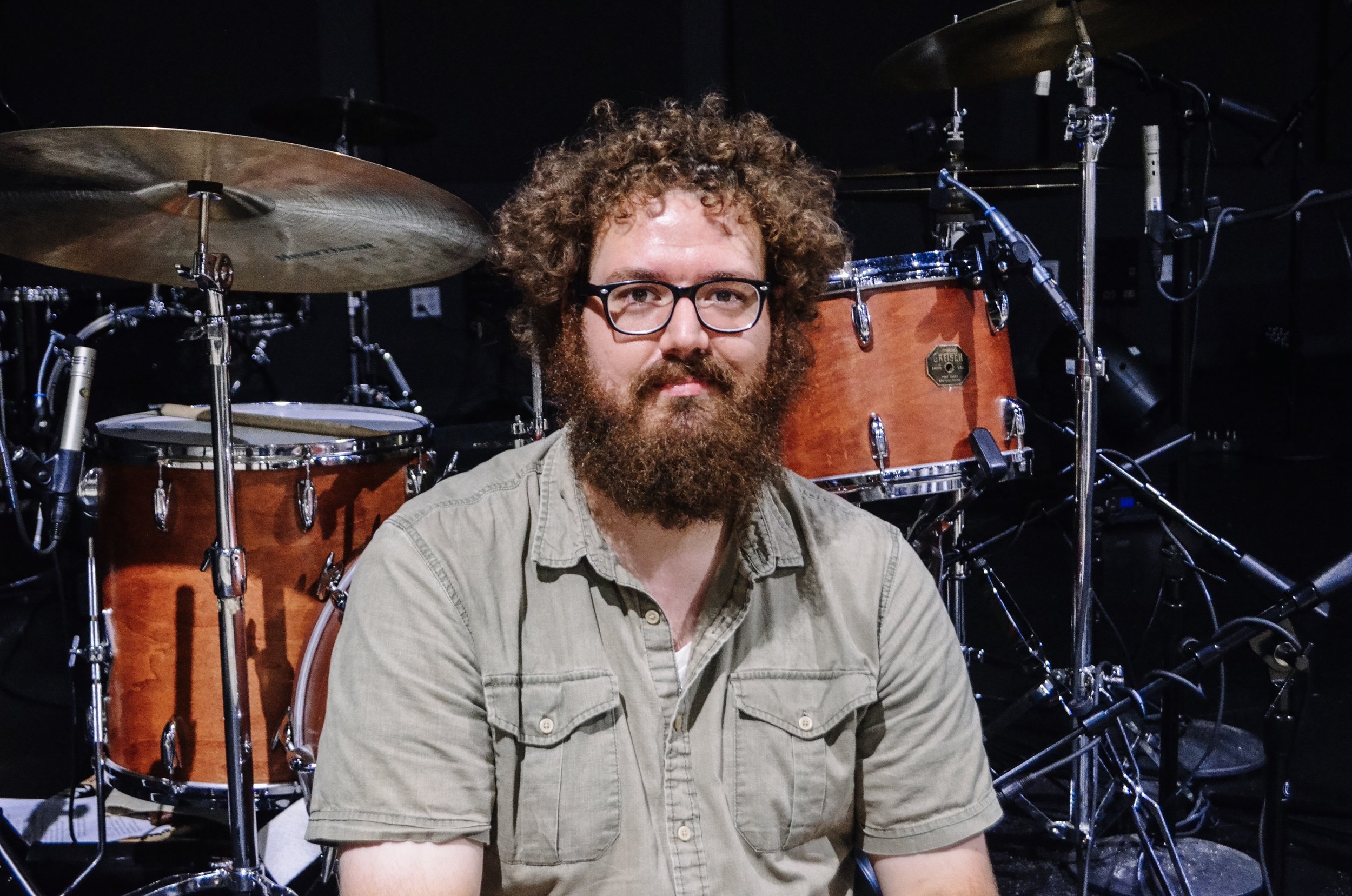 He plays drums on every song of the album except "Down the Fell." Luke was the drummer for our full band in 2015-16. He "gets" my songwriting better than other drummer I've played with. He also has an unshakeable loyalty to the song, which is the most important quality for a drummer to possess (IMO). When our full band split, we kept in touch, but pretty distantly.
Luke and I were re-united when we started playing together at a new church, and it was like we never missed a beat (no pun intended). He and I have both grown leaps and bounds personally in the last couple years, and reconnecting with him has been one of the biggest blessings about making this album.
His drumming and his encouragement took these songs to a new level. I can't thank him enough for it.
He's a genius engineer with a very mathematical mind. But he also is one of the most intuitive musicians with whom I've had the pleasure of playing. It would be very easy to get jealous of Ben's skill and how easy he makes music appear, so I just distract myself by complimenting him.

Ben plays piano on "Suspended and Safe," "Sheep," and "Labor Day." When I'm not in awe of Ben's playing, I'm laughing at his antics, or inspired by his positivity. He's a great person to be around, and I'm glad I know him.
I met Matt in 2017 at church. He's one of my worship pastors. Everyone looks up to him either literally or figuratively, but most of the time, it's both because he's basically seven feet tall and an awesome dude.

Matt's voice can be heard on "Suspended and Safe," "Sheep," and "Elephants." He also offered a lot of advice and encouragement on early arrangements of these songs, and now that I'm near the end of this process, I see how impactful that was.

Brooke and my friendship with Matt and his fiancée Kass is fairly new, but they seem like friends that we've known for years. You would be hard-pressed to find more genuine and enjoyable people in this world.
I met Marshall in 2018 through church. We hit it off, and about halfway through 2018, he blew me away with his generosity. He offered to engineer a drum session for Luke Cross and me. I'm very grateful for it. I wasn't even sure if "real" drums were going to be possible on this record, but God made a way through Marshall and Luke's generosity and talent.

I thanked Marshall several times as we were leaving the drum session, and he said the best way to repay him was to not give up or cut corners. He said he would always volunteer for the sake of art. How cool is that? That's the kind of musician I want to be - encouraging and helping others create art any way I can.
Thank you, Marshall!
Allen can be heard playing violin on "Pay Day" and "Labor Day." If you find yourself sobbing during "Labor Day," it's because Allen's violin playing is so beautiful.
Allen is a fabulous musician, and he has a huge heart for others. He also has a lovely family. I look up to him, and I am blessed to know him and call him my friend.
Blake is a good friend of ours. We went to high school together in Highland, IL. He is an incredible musician, and you can hear him playing saxophone on "Hand-Sized Cloud." He is the kind of musician that makes a songwriter sound more talented than they actually are. I gave him MIDI saxophone parts as a reference, which lacked a lot of dynamics and expression, but he interpreted them perfectly -- better than I could have hoped.

He's also a really great band director. He even won teacher of the year recently. I am thankful to know Blake, and I'm even more thankful that he considers my music worth his time and talent.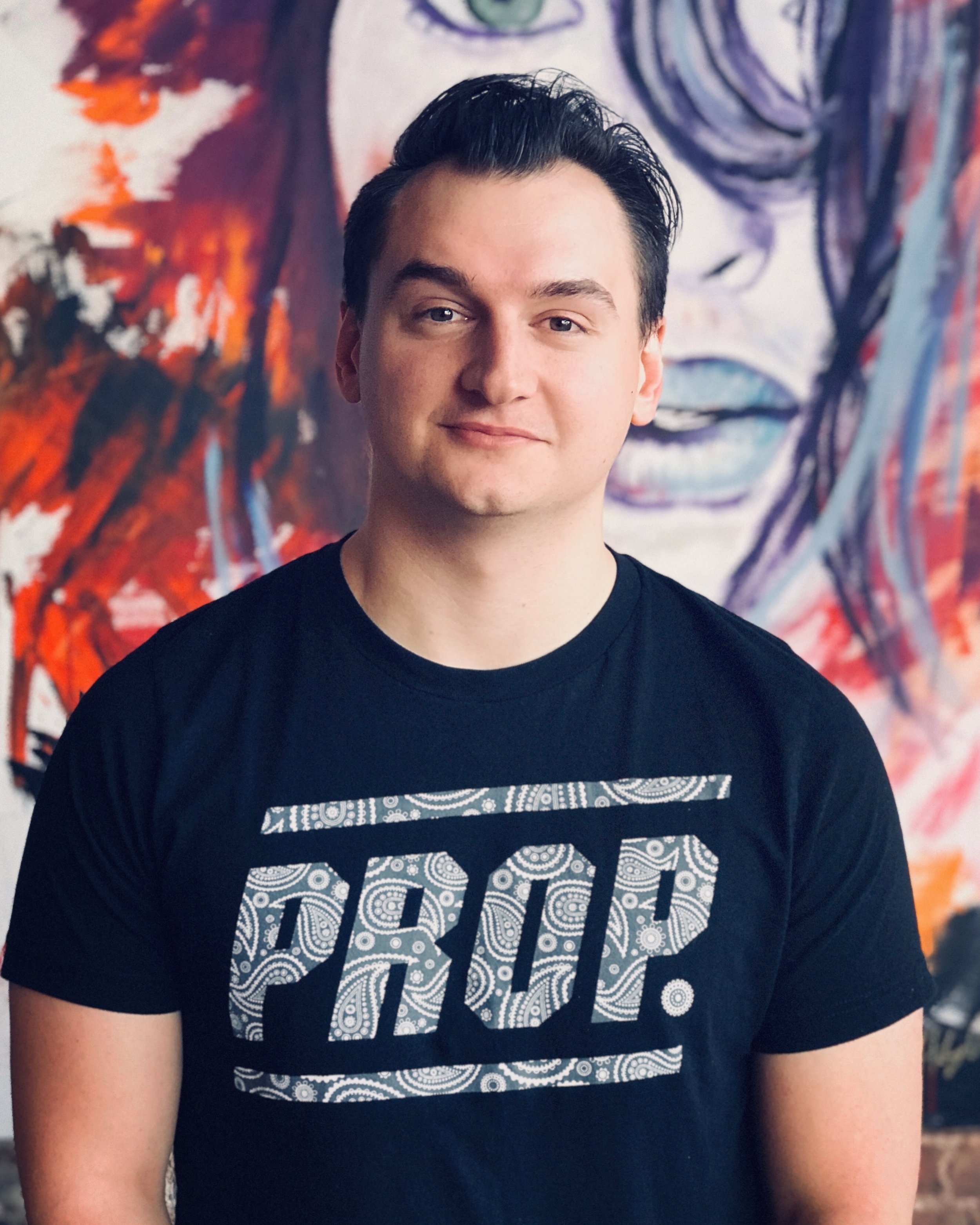 I've been working with Lucas longer than any other musician in my life. And although Lucas doesn't play instruments on "Little Flock," he was involved from the start, offering a ton of advice from afar, speaking life over me, and then mixing and mastering the songs with the annoying perfectionist artist (me) for three days STRAIGHT in a church basement. Talk about torture! He also mixed in Ableton, which I insisted, even though Ableton isn't really conducive to mixing. He accepted the challenge and did a fabulous job.

I wouldn't be the musician I am today without Lucas. He and I have worked side-by-side for the most formative years of my musical career, and I can't believe he still is willing to work with me.
Brooke and I went to college with Rachael, and I think we've become even closer with her and her husband Daniel after graduation. She's an incredible photographer, and she takes photos of our family often. She has a way of capturing our family that is priceless and irreplaceable.

In addition to the promo photos and album cover for Little Flock, she also took photos for our full band back in 2015 and the album cover for our "Bombpop" EP.
I know John as a coworker at Maconaquah Schools. John is a great science and agriculture teacher, and he's REALLY smart guy. He and his daughter were also nice enough to let us take photos with their Southdown Sheep for Little Flock promo shots.

John and his daughter are also musicians, themselves.
Thanks, John!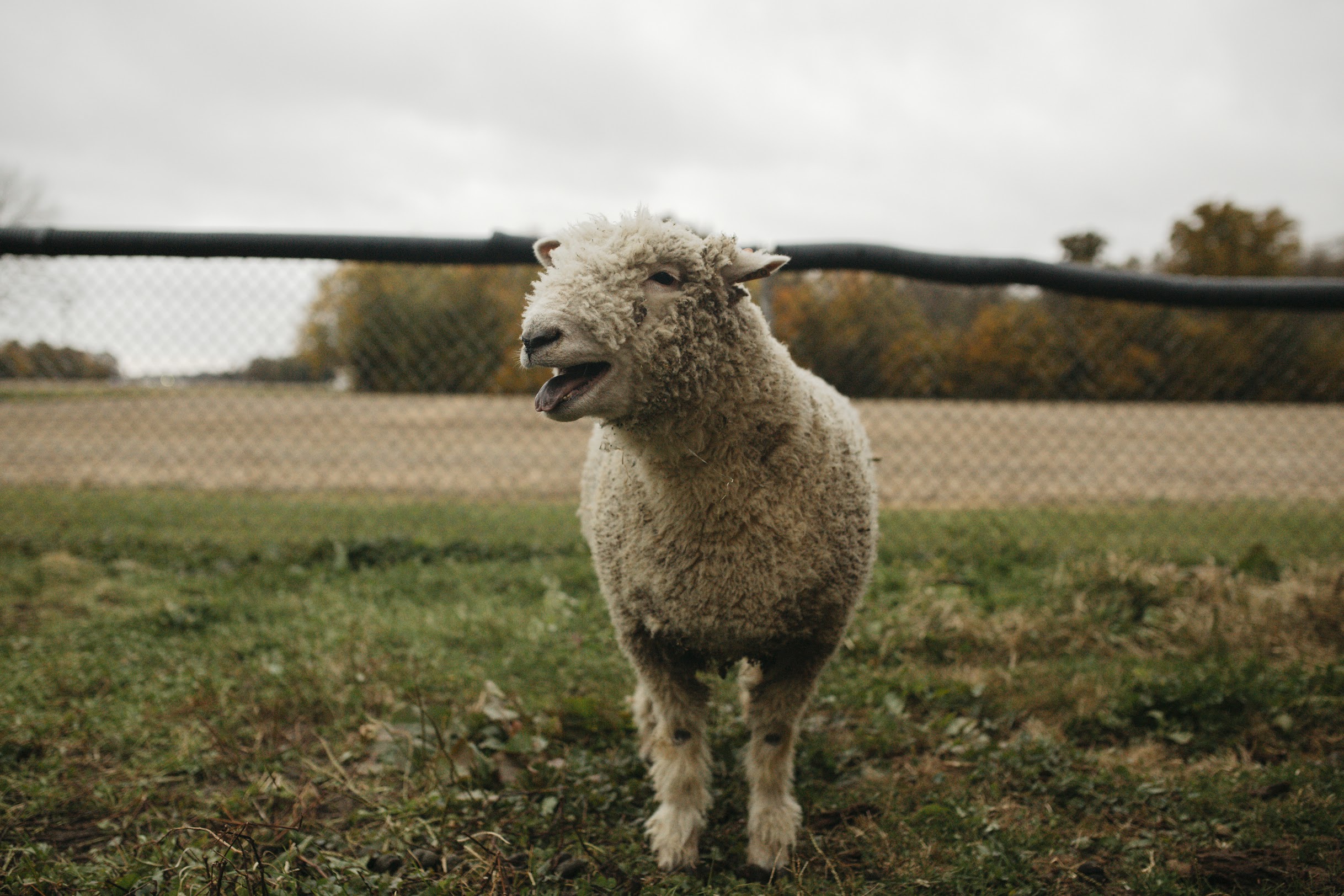 They are driven by habits. They're easy targets for predators. They're fickle. They're easily distracted. They're stubborn. They give in to mob mentality.

They don't even know when or how to rest on their own. They get lost and sometimes stuck laying down.

They can get really stressed. They need to be watched carefully. They're a liability.

They're a great four-legged representation of humans.
Sumatra is another very important member of our little flock. I adopted Sumatra from an Atlanta family when Brooke was three months pregnant with Holland. It was crazy, and maybe even stupid. But I rented a car with the help of Brad Teal, drove through a snowstorm, and welcomed Su into our family.
Su complicated things then, and she still does. But something I'm learning about blessings is that they often DO complicate things. Marriage, kids, pets, growing businesses, etc… They're wonderful, and they complicate your life.

Su was also at my feet for many recording and mixing sessions, and her bark can also be heard in "Elephants," right before the full band instrumentation starts.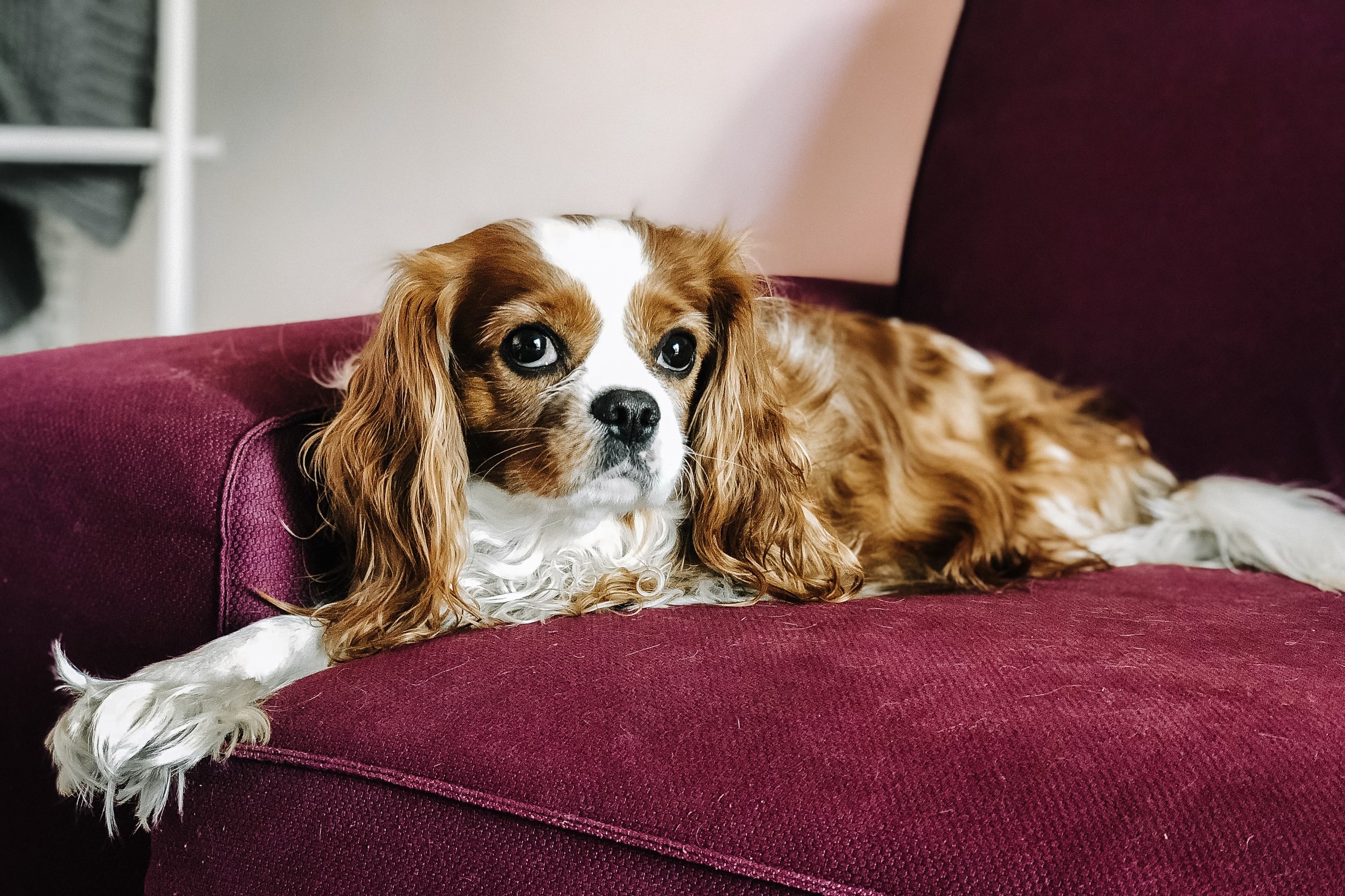 He was the first creature to give me a sense of fatherhood.
Our previous album, "Indiana," dealt a lot with post-college, newly-married life. "Little Flock" deals with the identity shift to being a father, starting and building businesses, and exploring my imperfect-but-beautiful relationship with my creator. There's a lot of self-evaluation, doubt, and stress in these songs, but there's also hope. I don't know how that compares to other men's transition to fatherhood, but that's what mine looked like.
Anyway, I can track *some* of that identity shift back to McGregor and being responsible for his development and well-being as a puppy. I love this little dude. He has a ton of attitude, but he's a softy. And he spent countless hours at my feet while I recorded and mixed these tunes.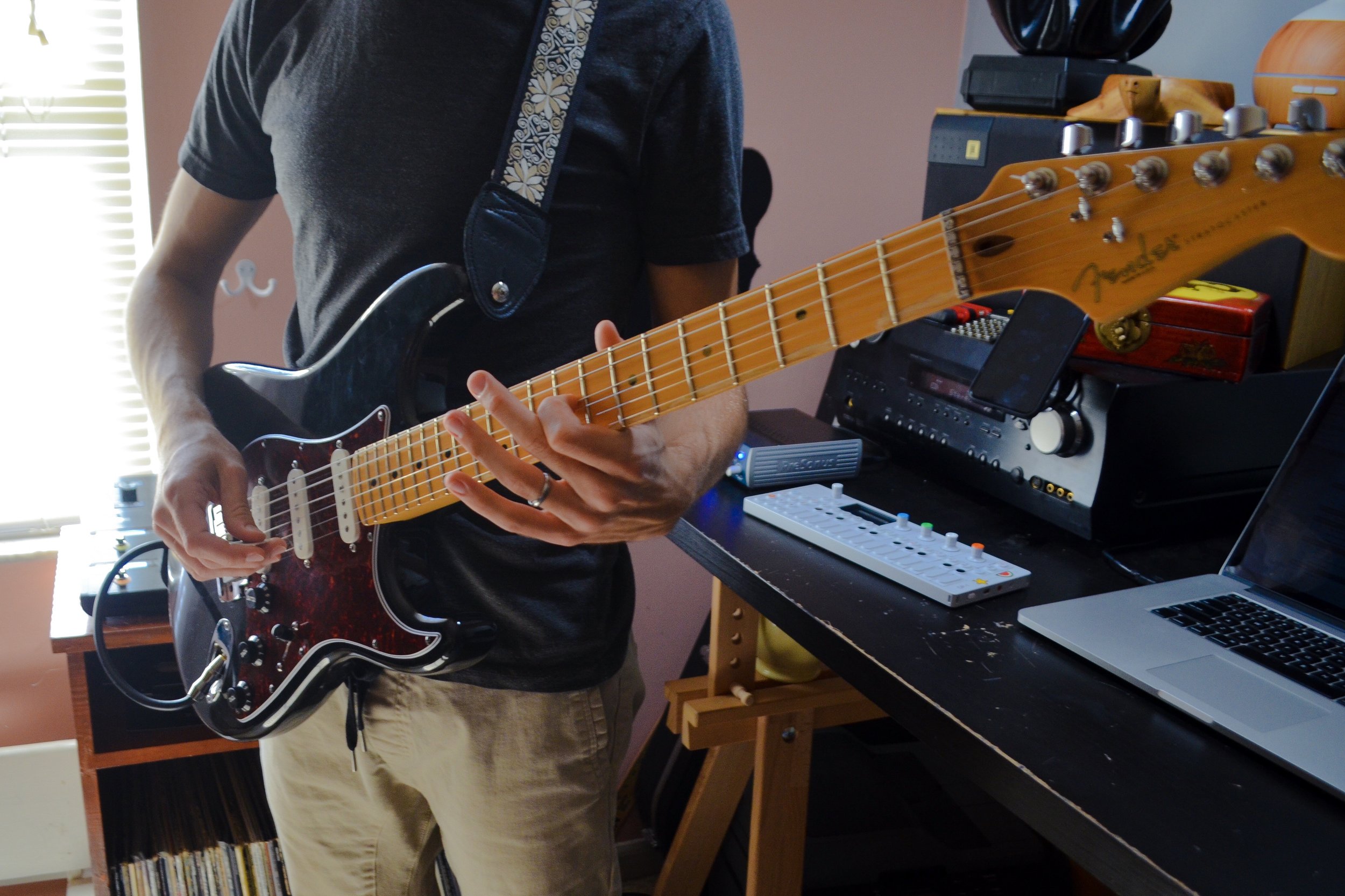 This is my Fender American Standard Stratocaster.
I bought it in January 2018 because it was too good of a deal to pass up. I actually expected to resell it for a profit. But the more I played it, the more I bonded with it. Also, Holland was particularly obsessed with this guitar, and it melted my heart to see her fascinated by it. So it's the main guitar on Little Flock, and it appears on (nearly) every song.

It has an upgraded roller nut, locking tuners, Samarium Cobalt Noiseless pickups, and Fender's "micro tilt" feature in its neck pocket, which I love. It came with a Super Vee Blade Runner bridge, but I sold it. Soon after, I realized how amazing of a bridge it was, so I bought a blade runner replacement, and it is currently being installed. I also wired it with a 3-way switch instead of the 5-way, because I've never found a use for the 2nd and 4th positions on a 5-way strat switch. That's a lot of technical talk, but put simply, I love this strat a lot. It does everything I want it to do. It plays well, sounds amazing, and feels like home.

I've dreamed of owning a black American strat since I was a kid watching Ritchie Blackmore, and here it is.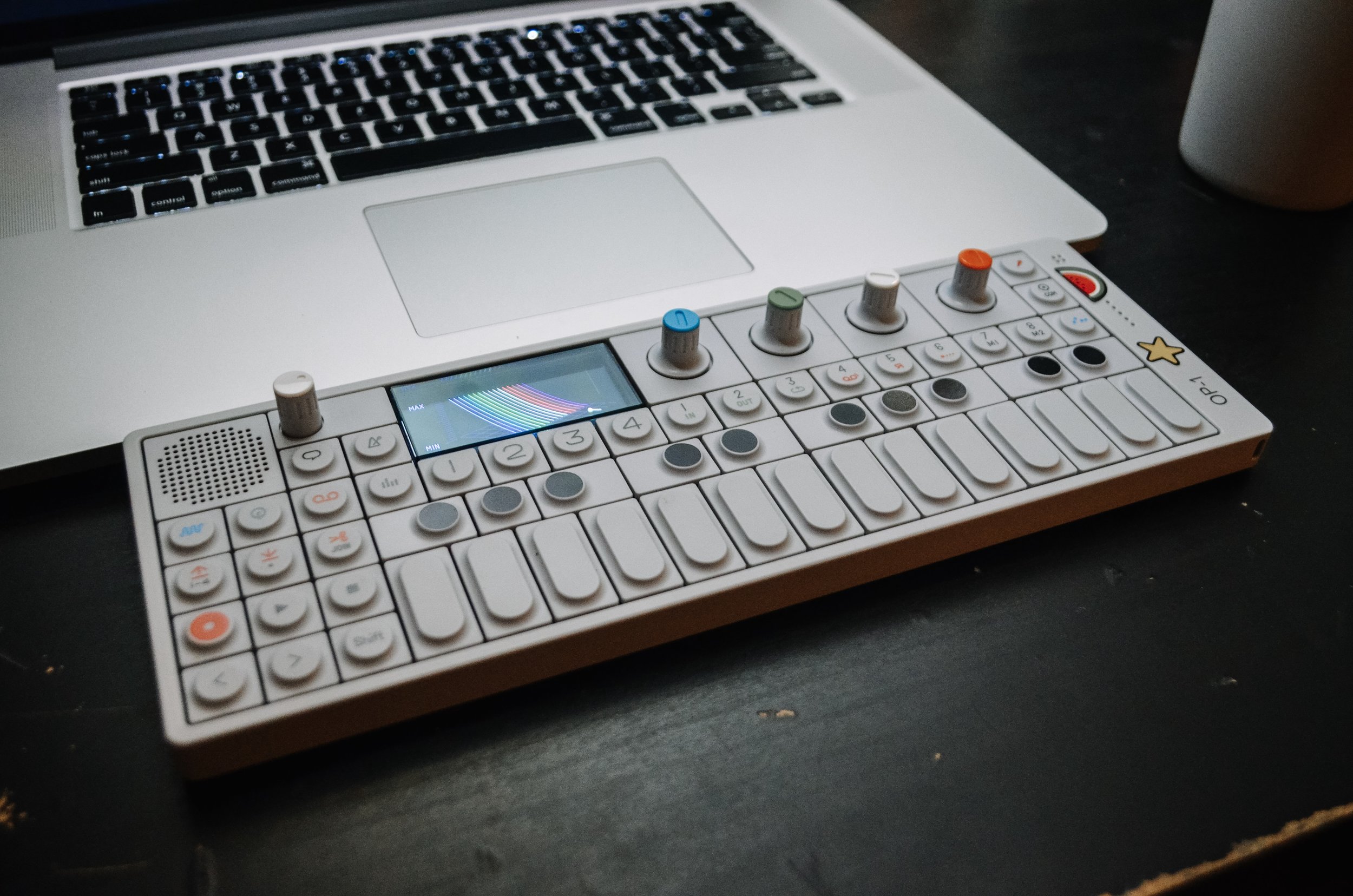 It's a really great, really expensive instrument that looks like a toy.

I bought mine in the last few months of 2018, so it wasn't around for the entire process of making Little Flock, but I would describe it a "sprinkle of salt" across the album. It's on nearly every track, and to me, it does a great job of "enhancing the flavor" of the songs and arrangements that had taken shape. Just like adding a little salt to your food.

I have a lot of fun with this little guy, and I can't wait to get better with it. Expect to hear a lot more of this OP-1 in future tunes!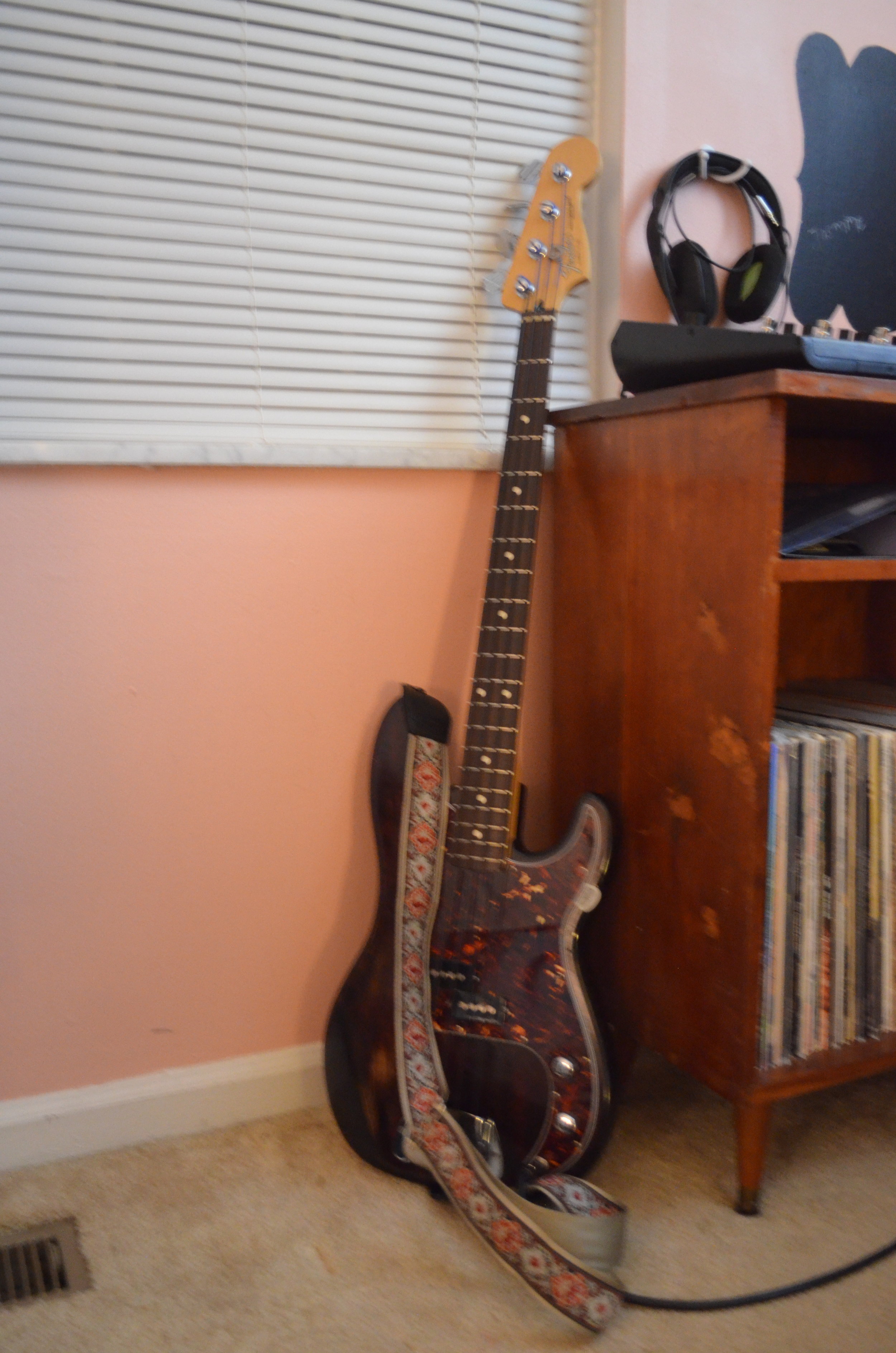 This is my Fender Precision Bass
Bass guitar is a significant part of "Little Flock." When I called it quits on our full band in 2016, I started playing bass more than guitar. Although I still have a long way to go, and I lack certain qualities of 'true' bassists, I feel confident behind the instrument.
I consider bass the key instrument behind many of the songs on the album. Utilizing the bass guitar (or bass synth) to serve a song's structure has been one of the biggest steps forward I've taken as a musician in the last couple years.

The neck on this bass is from 1994, I think? Mexican made. The body is also Mexican, but it's from a different year. It came with a Seymour Duncan Basslines pickup in it, and I upgraded the bridge at some point. I also prefer tape-wound strings for the warm, smooth tone they provide. It's not really worth much attention, but it does what I want it to do, and it feels good under my fingers.
I bought this from Lucas Winkler a couple years ago. If I'm being honest, I am not super proficient with this thing. I'll go through brief seasons of committing to learn the ins and outs of Push, but it never lasts very long. It ends up just being a very user-friendly MIDI controller for me, since I'm pretty bad with a traditional keyboard.

This picture of my Push is more just representative of Ableton Live. I love Ableton, and I think it plays a big part in shaping the songs I write. It's a big part of my "rig." It influenced the arrangements of both "Indiana" and "Little Flock." .

Some of my favorite songs on the new record started as 10-20 second guitar riffs recorded into Ableton. I pushed and manipulated those snippets in multiple directions to see what felt right. These kinds of arrangements always turn out different than I would have expected if I wrote them the "old fashioned way," which makes working with Ableton such a joy. Examples to look for on the new album: "Pay Day," "Striving," and "Down the Fell."